Riverbank Farm Working Dogs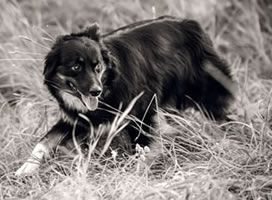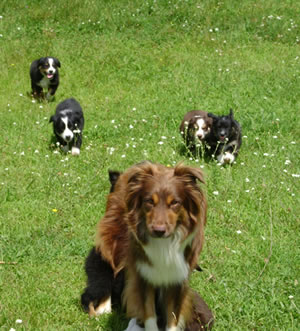 The dogs at Riverbank Farm are primarily Australian Shepherds and Border Collies. All of the dogs reside here and compete in ASCA Stockdog Trials. Many of the dogs have completed their Working Trial Championship titles and others are progressing through the program. The dogs are frequently used to move the livestock to neighboring pastures, to load trailers and to assist during lesson sessions.

Occasionally, working bred Aussie pups are available to working homes. The adult breeding dogs are screened for genetic health issues and breedings are only done to help maintain a physically and mentally sound working Aussie gene pool.

Riverbank Farm is periodically presented with working "rescue dogs" that are in need of an opportunity to utilize their genetic basis. These dogs have not succeeded as "pets" and many thrive on the opportunity to satisfy their instincts. The dogs are evaluated and fostered at Riverbank Farm and new working homes are found when they are ready to transition.
POTENTIAL LITTER!

Riverbank's Aysa Mason bred to Justus and the Mighty Quinn. The breeding has been done and the litter will be due in early May. More information to follow when pregnancy is confirmed in early April.

Resident Farm dogs:

Non-Resident/past residents: